Day 1 Hochiminh city - Mytho - Cao Lanh 60 km [L,D]
Am : Pick up at hotel and transfer to bus by Mytho, boat trip in Mytho to Thoi Son island and fuits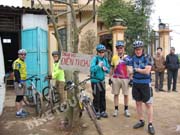 garden, tasting the fruit and enjoy traditional music. Rowingboat on the small canals admiring the coconut trees along the banks. Start to cycle from the habour to VinhTrang Pagoda and lunch at Trung Luong restaurant. Cycle from AnHuu to CaoLanh. Cao Lanh is a new town carved from the jungles and swamps of the Mekong Delta region. Overnight at hotel in CaoLanh.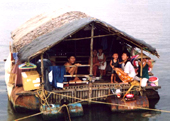 Day 2 CaoLanh - ChauDoc 70 km [B,L,D]
Am : After the breakfast. Ride to Chaudoc via LapVo, passing the ferry Vam Cong. You will see traditional houses of Vietnameses on the mekong river and biking along the river, meeting children whre the tourist is still a tranger and a curiosity. After the ferry, taking bus to ChauDoc. Chau Doc is a riverine commercial center not far from the Cambodian border in An Giang Province. The city was once known for its dugout canoe races. Chau Doc has quite sizeable Chinese, Cham and Khmer communities. Overnight at hotel in ChauDoc.
Day 4 ChauDoc – HaTien 70 km [ B, L, D]
Afterbreakfast. Cycle to Sam Mountain.There are dozens of pagodas and temples, many of them set in caves, around Sam Mountain such as TayAn Papoda, ThoaiNgoc Hau temple.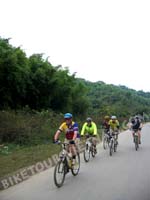 Visit LADY CHUA XU: founded in the 1820s, this pagoda stands facing Sam Mountain. Then continue cycling to TriTon via NhaBang. Have picknique luch. Transfer by minibus to Hatien. Overnight at hotel.
Day 4 HaTien – RachGia - Cantho 30 km [B,L,D]
Am : Cycle to the ThachDong and the beach Muinai, closed to the border with Cambodia. Then cycle to KienLuong , stop at fishing village . Pick up by minibus and transfer to RachGia to have luch. Rach Gia is the capital of Kien Giang Province, with a population of 150,000, including significant numbers of ethnic Chinese and Khmer. Fishing and agriculture have made the town reasonably prosperous.Arrive Cantho in the afternoon. Check in hotel and free time. Overnight at hotel.
Day 5 Cantho – Hochiminh city [B,L]
Am : visit PHONG DIEN floating market : the best floating market in the Mekong Delta with many stand-up rowing boats around. The market is reached by boat, with return to Can Tho by car then return to Saigon. Luch at TrungLuong restaurant in Mytho. Arrive Hochiminh city. End tour.