Day 1 Hanoi ( night train to Laocai )
Pick up from the airport or meet at hotel in Hanoi. Time to explore city before transfer to railway station to catch Tulico Express. Overnight on the train.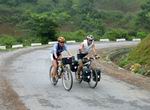 Day 2 Lao Cai – Sapa 40 km [B,L]
Arrive in Lao Cai, Unload bikes and meet support vehicle. Transfer to Sapa and have breakfast. Ride down Sapa valley. Continue to black Hmong village of Supan. Option: ride back or catch support vehicle.
Day 3 Sapa - BanHo 60 km [B, L, D]
Ride to TaVan village. Pass through valley and reach Red Zao village. Arrive Tay village BanHo . Return back up hill to track head home. ( return option at the minibus back to hotel or by bike ) Dinner at local restaurant. Overnight at hotel.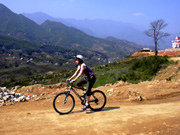 Day 4Sapa – Tram Ton 40km [B,L,D]
Climb to Tram Ton Pass to 2000 metres. Ride downhill back to Sapa. Transfer by bus to Laocai. Diner at the restaurant before take a night train to Hanoi. Overnight on the train.
Day 5 Hanoi
5h30 am arrive at Hanoi train station. End tour.
( please contact us if you need to continue the trip or other services )