Day 1 Ho Chi Minh [D]
Pick up from the airport or meet at hotel in l Ho Chi Minh City. Day is free to explore the city. Dinner at the Floating Restaurant on Saigon river.
Day 2 Ho Chi Minh 40 km [B,L]
Ride to the Cu Chi tunnels. Return to Ho Chi Minh City by bus in time to visit the museum of war crimes. Dinner is choice of guest.
Day 3 Ho Chi Minh - Dalat 50 km [B, L, D]
Early morning transfer to Dalat in the central highlands. In the afternoon we ride quiet back roads along the Langbian Plateau, passing along side the Xuan Huong Lake in the shadow of Langbian Mountain. Short visit of Love valley and HoaBinh market. Overnight at hotel.
Day 4 Dalat – Nha Trang 109 km [ B,L,D]
Ride along quiet roads out of Dalat. Crossing TraiMat andDraDran pass. Take short climbs followed by some descents to take us to Cham towers of Po Klong Garai. Those arriving early may have time to explore Hindu temples. Drive to Nha Trang, the resort town to enjoy the evening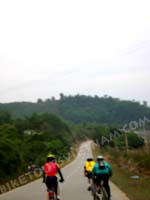 Day 5 Nha Trang boat trip [B, L ]
8:00am starting boat trip to Hon Tam Island and fishing village in NhaTrang, visit coral island and TriNguyen Aquarium. Return to hotel. Free time for dinner . Overnight in NhaTrang.
Day 6 Nha Trang – Dai Lanh - QuyNhon 90 km [B,L,D]
Ride to the fishing village of Dinh Lanh along Highway One. Spend the rest of the day swimming and relaxing or ride the last 45 km into town. Arrive QuyNhon Town. Cylcing about 15 km to the most beautiful beach of QuyNhon. Overnight at hotel.
Day 7 QuyNhon – Quang Ngai 90km [B,L,D]
Transfer out BinhDinh Town to avoid the main highway. Ride a remote road running along the railway passing a mix of tribal and Viet villages. Loop back to the main highway and transfer to Quang Ngai. Overnight at hotel in SongTra.
Day 8 Quang Ngai – Hoi An 50 km [B,L,D]
Ride to My Lai, the site of one of the worst massacres of the War, and take a guided tour of the site and museum. Continue cycling into Vietnamese countryside and visit pagoda. Loop back through quiet, rural roads to the main highway. Transfer to Hoi An. The afternoon is free to explore Hoi An.
Day 9 Hoi An - Myson 60 km [B,L]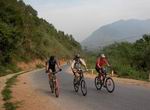 Visit My Son, the ancient centre of Cham civilization. Transfer out of town to avoid the highway before cycling along country back roads along the Song Tranh River to Mai Son. Take lunch before spending the afternoon visiting the site. Transfer back to Hoi An in the afternoon. Dinner is choice of the guest
Day 10 Hoi An – Hue 100 km [B,L,D]
Transfer beyond Danang to take on High Van Pass and climb 500 metres over 10 kms. After lunch, turn off the main highway and take a coastal side road for 44 km almost all the way to our destination. Energetic riders will make it all the way into Hue.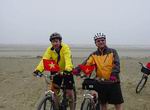 Day 11 Hue – Hanoi [B,D] Night train.
Explore Hue and visit the citadel. Take a boat ride along the Perfume River and visit tombs of the Nguyen emperors. Transfer to the train station and take the Reunification Express to Hanoi. Overnight on the train.
Day 12 : Hanoi - Halong - Catba island. [B,L,D]
Arrive Hanoi early morning. Have breafast at the restaurant and transfer toHalong bay. Take a boat trip direct to Catba island with stop at SungSot cave and swimming at Titop beach. Continue to Catba island that crosing LanHa bay and many other small islets. Overnight at hotel in Catba island.

Day 13 : Catba island -Fulong 60km [B,L,D]
Am : Cycle to harbour and take a private boat to Fulong on Cat Ba Island. Disembark at Fulong and cycle 35 kilometres taking the islands only road. Stop on the way for lunch at the national park headquarters. Short trekking in Catba National Park. Cycling return to hotel. Free time at Catco beach. Overnight at hotel.
Day 14 : Cat Ba - Hai Phong - CucPhuong (B,L,D) ( 50km )
In the early morning we take public ferry back to Hai Phong. You can ride 15km on CatHai island before landing. Then we continue your bike trip more 30km then take a bus back to CucPhuong NinhBinh , stopping at PhoMinh pagoda and Tran temple. Overnight in CucPhuong national park.
Day 15 Cuc Phuong - KimBoi ( Hoabinh ) 80km [B,L,D]
Head east, riding some back roads through North Vietnam passing rice fields and follow country back roads past poor but friendly villages. Transfer to V Resort in HoaBinh for relax. V-Resort – Natural Farmland and Hot Spring is located in an unspoiled valley in Kim Boi, Hoa Binh. Overnihght at hotel that offer free service at hot spring at 37 degrees centigrade.
Day 16 KimBoi – Hanoi Capial 40 km [B,L]

Am : Relax at resort. Free time to discover Fruit and Vegetable Farmland spreading over thousands of hectares in the heart of Hoa Binh breathtaking Green Mountains and Hot Spring
Pm : After lunch. Biking down hill to ChiNe town and transfer by bus to Hanoi. Arrive Hanoi. Diner is your choice. Overnihght at hotel.
Day 17 Hanoi [B]
The morning is free for last minute shopping or sightseeing. In the afternoon there is an airport transfer for anyone who needs it.