Course Features
| | |
| --- | --- |
| | International Standard 18 hole golf course |
| | 4-star rated course |
| | Scenic mountain views |
Dong Nai Golf Resort and S & GLS Resort have co-operated in bringing golfers in Korea to Vietnam since April 2007


Description

GUIDE AWARDS:
The Best Golf Course in Vietnam- 2003
The Best Golf Course in South Vietnam – 2004
The Best Golf Course in South Vietnam – 2005
We are in the top 10 most beautiful and challenging courses in Indo-china and are the first 27-hole golf club in Vietnam . The sheer variety of every hole requires thoughtful shot making, coupled with magnificent scenery in a tranquil environment.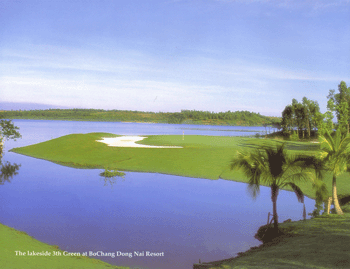 The golf course is combined with 3-course. From the back tees, each of the courses measure about 3,500 yards with a par of 36. The entire resort are covers some 260 hectares, and is situated next to a huge 1,000-hectare natural lake offering seasonal levels of water, depending on the dry and wet seasons.

On the "A Course" the first 5 holes snake along side the natural lake and feature the superb par 3 third hole where the golfer must play over the lake to almost an island green. This hole offers wonderfully challenge conditions. In the early morning, the mist rises from the surface of the water, disturbed only by beautiful migrating birds. As the sun rises, the colors change and fish leap from the pond in an effort to catch insects. This hole conjures up the peace and tranquility surrounding the entire Resort; there can be only a handful of courses throughout the world to match its sheer beauty.
The "B Course" offers slightly more undulating, rolling fairways meandering past, and over an elegantly constructed lake, where technical challenges await for the golfers to negotiate safely in their effort for a high-class performance.

The "C Course" is as varied holes and interesting as the other two nines. Water is the feature of the "C Course" –it comes into play on eight of the nine holes. It is also the longest of the 3 nines measuring 3,510 yards, most of which is carry!

All in all, the Dong Nai Golf Resort is a once seen, never forgotten golfer's paradise, the beauty of which is unparalleled.

Restaurant

The restaurant accommodates up to 200 persons at any time and serves all kinds of international food including:

Vietnamese, Korean, Chinese, Taiwanese, Japanese, Western … and beverages: wine, soft drinks, beer, fresh fruits … the range of our à la carte menu is wide enough to satisfy the discerning taste buds, and anything not on the menu is available upon request in advance.

It is air-conditioned and with kindly staff waiting to cater for your every need. Especially, there is a high and nice angle to watch beautiful scenery during eating meals.

There are three (3) Private function and V.I.P rooms for organizing any event or party.

Villa Complex

The Villa Complex consists of two (2) section buildings:

+ Accommodation Section: with 72 double rooms all air-conditioned, with en-suit,Cable TV, ITT and Mini Bar.

+ Reception Section: with Bar, Massage, Sauna, Steam Room, Jacuzzi, Billiards and Karaoke Rooms.

Additional services and facilities
Daily cleaning service

Laundry service

Gymnasium service.
Clubhouse
The clubhouse offers a convenient route to tee-off or to practice in the driving range; we have plans to build a new clubhouse.

Now the facilities in Clubhouse as follows:
-Driving Range (with 36 bams)
-Locker rooms and showers (both Ladies and Gentlemen)
-Proshop