Course Features
| | |
| --- | --- |
| | Championship 36 hole golf course |
| | Challenging 4-star rated course |
| | Scenic mountain views |

Description

Setting new standards in design and construction, not to mention guest and member facilities and services, the 36-hole Chi Linh Golf & Country Club finally opened in late 2003 in Hai Duong Province in northern Vietnam. The club, one of the newest in Vietnam, is located about half way between Hanoi and the port city of Haiphong, around one hour by car from either city.

Playing the Course

The Chi Linh Star Golf Course will feature a 36 hole golfing challenge, with every hole constructed and designed to international standards. "The Best Place To Play" begins with nine holes, opened in November 2003, and when completed will leave you with an unforgettable golfing experience. The site on which the course is being constructed lies within a beautiful valley, surrounded by rolling forest hills, and nestles beside a large lake complete with rolling creeks and natural water flowing from the surrounding area. A visit to Chi Linh will no doubt leave a lasting impression, whether it be for a great round of golf, or simply having made the visit to a truly special place, transformed with care and attention to every detail. Chi Linh Star Golf course was designed and is also being constructed by a leading Australian company, I.G.C.S. (Independent Golf Course Services) I.G.C.S is well known in the region having previously designed and constructed courses in Australia, Thailand, Indonesia, Philippines and China. This is the first project for I.G.C.S in Vietnam, and Chi Linh Star Golf Club is very pleased to have such a company working with us constructing our new course.
AAA Rated P.G.A professional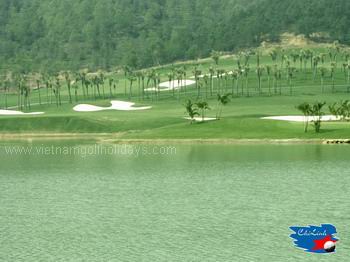 Chi Linh Star Golf is very fortunate to have retained the services of a highly qualified Professional, Mr. Lars Holden P.G.A as Director of Golf and General Manager.
Mr. Holden has rich experience in South East Asia. In Vietnam he has been working for more than three year and brings along with him a wealth of golf knowledge to the company and the club members. Just starting to discover the ancient game of golf, or wanting to fine-tune your swing, Lars is available for individual lessons, group lessons, beginner clinics, on course lessons, equipment advice, golf rules and etiquette seminars and 1,2 or 3-day golf schools. Mr. Holden is the only member of the P.G.A currently working in the North of Vietnam, joining the company in December 2002. His top commitment is to guaranty the quality of the course and the services it provides are of an international standard, meeting the needs of the international membership.
Course maintenance equipment has been imported from the U.S.A. manufactured by "Toro" a world leader in the -industry servicing the very best golf courses all over the world today.
There are of course many factors contributing to the successful construction of any golf course, irrigation, drainage, effective and practical design, not to mention experience and knowledge.
Not one of these factors has been overlooked on this project, as it is the company's absolute goal to construct a course that is of a true international standard not only today, but for many years to come.
Turf Grass for golf courses the world over has become an exact science, with many species being developed for specific use. Again, we at Chi Linh Star Golf have sourced the very best available today to suit the demanding climate in Northern Vietnam, and provide our members and their guests with a first rate facility.
Grass coverage of the tee areas and fairways uses a species of grass originally developed in the U.S.A., and currently sourced from Australia.
"Wintergreen Bermuda" is an extremely strong turf grass type able to withstand all weather and general conditions.
A superlar putting surface is of upmost Importance to the golfer, and yet again at Chi Linh we have spared no expense by air-freighting the very best turf grass suitable for use on greens in this region. On course we is using second generation "Tiff Eagle" grass on our greens, providing maximum player satisfaction.