Dear reader,
Thank you for taking time to visit our web site. We hope that you have found some useful information for your best accommodation in the city.
Besides promoting the hotel to potential clients , the idea of introducing the hotel as the historic & cultural destination closely relating to historical events of the city was the main motive that helped us complete this web site. We would like to express our sincere thanks to Mr. Nguyen Dac Xuan- the historian who provided us with precious information on the history of hotel.
Built in 1901 by the French businessman, Mr. Morin this architecture of colonial style lived up to its former reputation as the choice of celebrities, intrepid adventurers and discriminating businessmen. It offered everything a discerning travelers would expect from a world class hotel.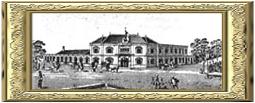 Morin hotel in 1901 Mr. W.Morin
The General Manager
The big renovation in 1998 has restored the hotel its former glory without sacrificing the old world charm and Vietnamese traditional hospitality that has made the Saigon-Morin Hotel legendary. At present, The hotel possesses the finest location in town, within walking distance to everything , where guests can enjoy the view of the romantic perfume river, the historic Trang Tien bridge . This luxury deluxe hotels boasts 135 airy rooms and Suites, all are well equipped with IDD, satellite TV, Mini bar, bathtub, hair-dryer and 24 hour room service. The system of restaurant indoor, outdoor or on the top floor serves the best selection of food and drinks. The leisure facilities meet the demands of the most fastidious guests. Most essentially, the hotel staff is the main factor that makes the hotel products become high quality and particular characteristic .

SAIGON MORIN HOTEL Tao Van Nghe /Mr
The General Manager
You can find below the hotel chronology in order to have the general view of the hotel history.