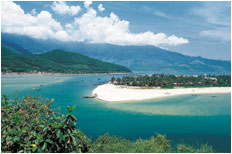 Lang Co beach by the National Highway 1 in Thua Thien – Hue province has become more attractive and exciting for tourists since Hai Van Tunnel was opened to traffic.
So far, 20 tourist projects have been carried out in Lang Co. Each project mobilises from 3 to US $5 million. Three resorts in the beach area have opened.
Set in a secluded bay and surrounded by mountains and sea, the four-star Lang Co Beach Resort is on the road between Da Nang and Hue, 20 km from the Da Nang International Airport.
The resort is designed in the oriental architecture of Hue and comprises 60 villas and bungalows which all face the ocean and are equipped with modern facilities. The resort has sea-facing accommodations and is a haven for tranquillity.
Lang Co beach resort comprises 60 Hue-Styled garden houses villas with such full types of equipment and facilities to international standards.
The beach village of Lang Co is a geographic name in the south-westernmost land of Thua Thien - Hue province. One side of the village is adjacent to the white sand beach with rustling waves in the night. The other side is by the An Cu lagoon which silhouettes the Truong Son mountain range.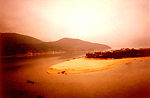 Leaning against the Truong Son mountains, Chan May cape is in the shape of an enormous crescent. It is next to Lang Co Beach and north of Hai Van Pass. The beach is about 24 km away from Bach Ma (White Horse) Mount. The beach is considered the nicest in the central area.
Lang Co Beach is 10 km long with white sand and clean and shallow water. The ideal time for swimming in Lang Co is from April to the end of July, with an average temperature of 25oC and 158 sunny hours per month.
According to research of the Institute of Physics and Hydrology, the water in the area is accessible to the vessels 10 tons, and a harbour is being built in Chan May.
Five years ago, the National Administration for Tourism made a plan to put Bach Ma – Lang Co – Hai Van Pass – Non Nuoc Mountain into one of four key tourist regions of the country. Nhandan.com