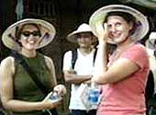 Hanoi is set to welcome its one-millionth foreign visitor and five-millionth visitor overall for 2005 on December 6, Cao Ngoc Lan, Deputy Director of the Hanoi Tourism Department told the Vietnam News Agency's correspondent.
The capital city's tourism industry has posted an average annual growth rate of 20%. Since 1992, the number of foreign visitors to Hanoi has increased five-fold.
The city grossed a total turnover of more than VND 8 trillion from tourism services in the past 11 months. This year, Hanoi was listed among the Top Five Asian Tourist Cities for the second time by leading US lifestyle magazine Travel & Leisure.
Hanoi has worked out a master plan for sustainable development of tourism to more than double [2.16 times] tourism turnover and increase the number of visitors by 155% by 2010.
The plan focuses on an annual increase of 15% in the number of foreign tourists and 17% in the number of domestic tourists. The city plans to welcome 1.6 million foreign visitors and 5.7 million Vietnamese visitors in 2010. Revenues from the tourism industry now represent 10.38% of its GDP.
The city will take effective measures to promote tourism, develop tourism products, expand markets and invest in tourist infrastructure facilities, including hotels, entertainment areas, and other tourism services.