Seven Mountains - majestic and poetic scenery
The range of seven mountains, in the middle of flat and vast rice field of westernmost region of the Cuu Long river delta, bears a majestic, imposing and poetic appearance.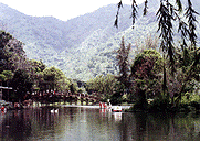 Bay Nui (Seven Mountains) extends in the range of Tri Ton, Tinh Bien, Thoai Son Districts and Chau Doc Town.

Cam (Forbidden) Mountain is the highest, 710m high in Tinh Bien District. From the peak of the mountain, tourists can view the vast entire plain and rivers. Cam Mountain is surrounded by peaks of Vo Dau, Vo Bo Hong and Vo Thien Tue which created a vast valley. The mountain is considered Dalat of the Cuu Long river delta.

The provincial authority is now building a tourist site called Lam Vien Nui Cam at the foot of the mountain on 100ha. This is a starting point for an itinerary to discover and learn about the Mount. Thanh Long Spring, Phat Lon Pagoda, Thuy Liem Cave, Van Linh Pagoda and Bo Hong Palace are located in the mountain area.

Beside Cam Mount is Sam Mount which attracts a great deal of tourists and pilgrims. The Mount is situated in Chau Doc Town, a starting point of the Seven Mountains range. The Sam Mountain, 237m high, has a complex of cultural and historical sites such as Tay An ancient pagoda, Hang (cave) Pagoda, Son Than (Mountain God) Temple, Da Chet Hill, Tao Ngo Garden, Ba Chua Xu Temple and Thoai Ngoc Hau Tomb. In cloudless mornings, the scenery looks like a water-colour painting with rivers, mountains, old temples and vast rice field.

Annually, a great number of pilgrims and tourists attend Via Ba Chua Xu Festival. Ba Chua Xu Temple (the local tutelary goddess) lies at the foot of Sam Mountain. It is said that the goddess is so sacred that anyone who offers incense to her can realise all their wishes. Therefore, during the festival of Via Ba Chua Xu, numerous pilgrims from everywhere flock to the temple. The festival is held annually from the 23rd to the 27th of the 4th lunar month.

Apart from the two above-said tourism sites, coming to Seven Mounts, tourists have a chance to visit Tuc Dup Hill on Co To Mountain, Xoai So Tourist Site in To Mountain, Ba Chuc Memorial Area and more than 50 pagodas of the Khmer ethnic minority group.