Travelling Muong gong players celebrate
(17-02-2005)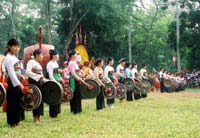 Where have they gong: A troupe of gong players of Muong ethnicity attend the spring festival in Ngoc Lac District of the central province of Thanh Hoa. — VNA/VNS Photo Trong Duc
HOA BINH — Boong, bing, boong.
Gongs sound in the mountains as the Muong ethnic minority in the northern mountainous province of Hoa Binh celebrate the spring festival.
The Muong organise troupes of performers who sing folk songs and beat their gongs. The troupes travel from village to village, visiting families to wish them a happy new year.
Each troupe has between eight and 20 members. The lead singer typically walks at the head of the group, while two or three others carrying large gongs walk behind him. Four or five other performers follow, carrying smaller gongs. Bringing up the rear are two men carrying bags of rice and cakes.
Standing in front of a stilt house, as family members and neighbours gather around, the singer begins to sing a song to praise the family:
When the spring arrives,
Our troupe visits your house.
We see the large columns,
The cattle crowded in your yard...
Then he sings the praises of the family's gardens and wishes for a prosperous new year, good weather, and happiness for every family.
The family members often sing in response to the troupe. Sitting around a large wine jar, the family members and the troupe drink ruou can (wine drunk through a bamboo straw). They continue to sing folk songs in response to one another.
Then the family thanks the troupe and presents the performers gifts of rice and cakes. The artists thank the family and walk to visit another family.
Each village has different songs, so each troupe's style and repertoire is different. — VNS