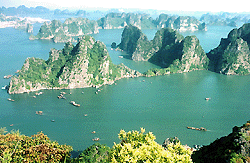 Ha Long Bay, one of the world heritages in Viet Namís northern province of Quang Ninh, is not included in the list of environmentally polluted heritages, says Deputy Head of the Ha Long Bay Management Department after the 30th session of the World Heritage Committee, held from 8 to 16 July in Vilius Ė Lithuania.
Previously, local people and international environmentalists were concerned that the ecosystem of the Ha Long Bay may be affected by a future cement factory near the landscape area.
The Cam Pha cement factory is located 10 km from the protective border of the bay, and all of its processing factories are reported to be only even 25km from the bay.
The Ministry of Natural Resources and Environment in conjunction with local authorities has carried out close examinations on the surrounding environment and the buffer zone before the factory is built in early 2007.
The Management Department of the Ha Long Bay confirms that the landscape site is affected by just household waste from a large number of villagers and visitors. However, the polluted area is an isolated spot from the center of the heritage setting.
Ha Long Bay, in the Gulf of Tonkin, includes some 1,600 islands and islets, forming a spectacular seascape of limestone pillars. The site's outstanding scenic beauty is complemented by its great biological interest.
Ha Long Bay has twice been recognized by UNESCO as a World Natural Heritage Area for its exceptional scenic beauty and outstanding geological and geomorphic values.
(Liberated Saigon)