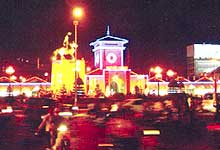 The night-market came into being 3 years ago to lure more and more visitors. The market nowadays is busier and itís a new address for shopping, dining after a hard day of working or sightseeing.
Ben Thanh night-market meet on two roads on either sides, Phan Boi Chau to the east and Phan Chu Trinh to the west. The market starts at 6 pm. Restaurants serve food from north to south; even the connoisseurs can find their favourite food. There is almost Vietnamese food, sometime Chinese food. Trang Bang rice-cake or dew-exposed cakes are particular here.

Visitors can check the price on notice-boards. The west side serves seafood. How can visitors look away and go when seeing tantalizing smell and flavour of seafood on sales.

On these two roads, opposite of the eateries are clothes-shop, almost low-cost ones, shops with clothes embroidered in flowers, Vietnamís landscape in souvenir-shops. All things necessary made of bamboo, rattan, coconut-fruit, and lacquers.
Overlooking east-side is shopping-street Luu Van Lang, about 200m long, itís formerly for sales of shoes, sandals, clothes and now for almost everything: dolls, hair-pins, elastic strings.

Ben Thanh night-market has long been a venue for tourists at home and abroad.
(Vietnam Tourism Review)