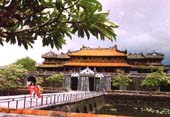 The former imperial city of Hue, which is now the road to becoming a festival city, will hold a festival on traditional handicraft from July 15-17 to promote its traditional embroidery and palm-leaf conical hats.
The festival will be held on Nguyen Dinh Chieu walking street and in two parks adjacent to the Huong (perfume) river.
A seminar to discuss measures to revitalise traditional craft-making villages and find ways to develop traditional trades of Hue will be part of the festival.
Joining the festival, tourists will be introduced to the secrets of making a traditional Hue conical hat inlaid with a poem by Hue's artisans.
In addition, reputed embroiders, including Le Van Kinh, Kim Chi, Nguyen Thi Huu Hanh and Nguyen Duc Khoa, will showcase elaborate embroidery techniques to viewers.
The festival will also include a street painting session, a kite flying session, a showcase of Hue calligraphy, and other traditional games. (VNA)
-------------------------------------------------------------------------------