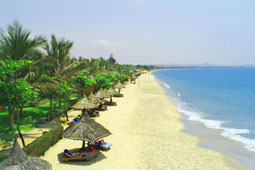 Vietnam has strong potential in sea tourism, with a coastline of more than 3,000 kilometers and many magnificent beaches and bays
Vietnamese tourism operators are tapping the potential of the won-derful coastline and are developing seaside resorts and hotels, and sea entertainments and sports to cater to both local and foreign tourists.
Among the localities strong in sea tourism development are Nha Trang, Phu Quoc, Phan Thiet, Halong, Ba Ria-Vung Tau and Danang. To prepare for business in the summer, operators of seaside resorts and hotels, including the Saigon-Phu Quoc Resort and Yasaka-Saigon-Nha Trang Hotel, have launched promotions to attract customers.
The four-star Saigon-Phu Quoc Resort, run by Saigontourist, is on Phu Quoc Island, Vietnam's largest island, near the Gulf of Thailand. Phu Quoc has retained its pristine beauty, with 99 mountains and hills surrounded by lush green primeval forests. The island has beautiful waterfalls, peaceful streams, cool sea breezes and fine sand beaches with crystal clear blue water. At night, the sea sparkles with hundreds of lights from fishing boats.
Phu Quoc has experienced a tourism boom, with 30,700 visitors in 2000, 144,000 in 2001, 300,000 in 2002, 480,000 in 2003 and 768,000 in 2004. In particular, foreign tourists soared from 5,700 in 2000 to 43,500 in 2001, 117,000 in 2002, 187,000 in 2003 and 299,500 in 2004.
Phung Xuan Mai, director of Saigon-Phu Quoc Resort, says the resort attracts 60% of all tourists to Phu Quoc, with a room occupancy of 75%.
Saigon-Phu Quoc Resort has 90 luxury flats, bedrooms and bungalows equipped with international standard facilities; all have a view of the sea. The resort offers many entertainment and relaxation programs, such as fishing, paragliding, scuba diving and parasailing. From June 31 to August 1, it will offer attractive promotions, such as a 40% discount for rooms and a 15% discount for tours of two nights and three days.
Yasaka Saigon Nha Trang Hotel in Nha Trang City, also run by Saigontourist, was opened in 2002 as a joint venture between Saigontourist, Khanh Hoa Tourist and Japan's Yasaka. The four-star hotel, with 174 rooms and modern facilities and services, is near the beautiful Nha Trang Beach. It is one of the largest hotels in Nha Trang and attracts most of the high-end visitors to the city. Yasaka-Saigon- Nha Trang was selected as one of the top 10 hotels in Vietnam in three consecutive years of 2001, 2002 and 2003 by Vietnam National Administration for Tourism. Last year, it was named the best hotel service in Nha Trang by The Guide.
Yasaka-Saigon-Nha Trang Hotel impresses visitors with its organizing of excursions to different bays, sea diving, aqua sports and tours to attractions in Nha Trang. Nguyen Hoang Anh, the hotel deputy manager, says the hotel will run promotions to better serve guests this summer. On offer are a 50% discount for rooms, the "One free night for two-night stay" program, a 10% discount for food, a 30% discount for laundry and a 5% discount for tours. Guests can also enjoy some services at no charge, such as purified water, night dining, karaoke singing, swimming pool, jacuzzi, health club and traditional music shows nightly. (By Dat Tien - No. 25' 05 (716) June 18, 2005)