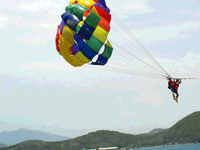 Parasailing is one of those imported recreations that seem to have caught on quickly in Vietnam, and many of the countryís beaches now offer you the opportunity to hitch yourself to a parachute. Among them is Hon Tam (silkworm island) Resort in the beach town of Nha Trang in Khanh Hoa Province.
From a deserted island more than a decade ago, Hon Tam is now one of the most-visited sites in Nha Trang thanks to its turquoise sea, crystal-white beach and beautiful landscape.
Itís no wonder that Vietnamese and foreigners alike flock to the islandís Hon Tam Resort. The weather is right, the scenery is interesting; and there are plenty of nautical activities.
Besides fishing from a boat at any time of the day, the more adventurous pastimes are parasailing, jet skiing, water skiing, windsurfing, kayaking and diving.
Parasailing is among the top choices of many travellers. A ground, similar to a landing pad for helicopters, is designed especially for this bold game at Hon Tam Resort.
After registration, you will get a life vest, and some fundamental lessons and quick tips on how to parasail. The learners are told to be as relaxed as possible and not resist being pulled up in the air even if they are initially afraid.
A ground assistant will help you check the harness before takeoff and before he takes his position, holding the opposite sides of the sail open.
When the boat driver receives the signal that everything is ready, the driver begins to slowly accelerate to tighten the slack line, while you and the ground assistant take a few steps forward with the rope.
The assistant holds the guiding lines to help the sail fill up with air. When the rope is taut, you should take a few long strides, but not try to help in the lift-off process by jumping or pulling up your feet as this will happen automatically.
Everything goes faster than you may think. Within seconds you are air-bound, and after another few seconds you are high in the air, getting a chance to view the bay from above.
The driver may go as fast as 60 kilometres an hour, and you may fear that the rope will suddenly give way, and you will fall into the sea. But donít worry because the life vest will help you float even if you canít swim. An emergency boat also stands ready to save you.
A parasailing trip takes around 15 minutes. Then the driver reduces the boatís speed to allow you to land gently back on the ground.
If winds push you away from the beach, you may land in the water, but even then some assistants will arrive immediately to help you take off the parachute.
If you have never parasailed, try this service at least once at Hon Tam Resort, as long as you donít have a heart disease or high blood pressure, in which cases doctors recommend not to parasail. The cost is VND 150,000 for 15 minutes. (SGT)