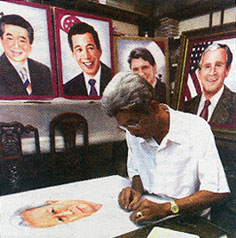 Dao Trong Cuong finishes a portrait of the new Thai prime minister.
Dao Trong Cuong breathes a sign of relief after putting the fine touches on portraits of regional leaders who will attend the Asia Pacific Economic Co-operation (APEC) meeting here next week.
The portraits, which incorporate more than 30 different kinds of precious stones, including rubies and sapphires, will be gifts to APEC leaders.
Cuong, head of Hanoi based Than Chau Ngoc Viet Gems and Jewellery Company, laboured with 30 other painters and artisans over the past six months to complete the one a kind of portraits.
"Leaders represent the best of their respective economies economies, while these gems are among the most precious and longest lasting in nature. So the pictures are symbolic presents," says Cuong.
He adds that when leaders look at these images they will remember Vietnam fondly.
The artist refused to reveal how much the portraits were worth, saying they were made with all their hearts.
The portraits will be displayed at APEC Images and Vietnam's Cultural Heritage Exhibition in Hanoi from November 14- 23. (VNS)