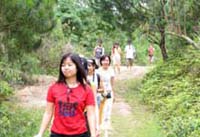 Large Co To Island is about 3 hours by boat from Cai Rong Town, Van Don Island District, about 150km from Halong City. The Quang Ninh province's tourism sector has surveyed potential to develop tourism on the island, especially eco-tourism.
Large Co To Island belongs to Co To Island District, Quang Ninh Province. Co To Island District includes 40 large and small islands, of which the three largest are large Co To, Thanh Lan and Tran.
Co To Sea is beautiful both day and night, sunrise and sunset, bright moon and dim moon. Beaches in the large Co To Island are deserted and not quite polluted by modern industrial society. Trinh Sat Beach is typical with white sands and blue water as clear as crystal.
The forest is also appropriate for ecotourism tours. You can walk or catch xe om to visit lighthouse on a low hill. It's about 10 minutes by xe om from centre of island to the foot of hill.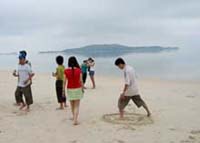 And then you'd better walk along a path to the lighthouse. This path is about 1km and lye among pine tree forest together with thousands of violet wild flowers. The light house is on the highest peak of the Co To island, 70 metres above sea level.
Large Co To Island has abundance of seafood such shrimp, cuttle, fish... Their price is very cheap. You can bring gas cooker and cook your own meal or hire native to cook.
From large Co To Island, hiring boat to around islands, you will discover another things such as play kinds of water sports: snorkeling, fish stabbing... On Thanh Lan Island, oranges are a special harvested fruit. During harvest time, the island turns a splendid orange-yellow colour.
Charming landscape with fresh air make Co To become an attractive place for visitors who are keen on exploring.