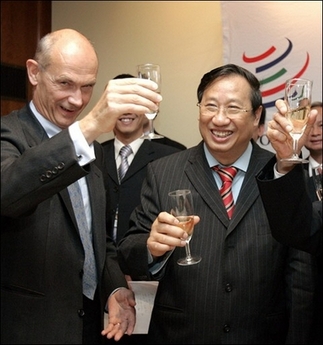 Vietnamese Deputy Prime Minister Pham Gia Khiem (right) and World Trade Organisation (WTO) Director General Pascal Lamy (L) celebrate after a signing ceremony at the WTO headquarters in Geneva.
Vietnam was officially admitted to the World Trade Organisation (WTO) during a special meeting of the WTO General Council on November 7 in Geneva.
The admission ended Vietnam's 11-year long negotiation process in order to join the world's largest trade body and paved the way for the country to join within 30 days of its National Assembly ratifying the accord.
Eirick Glenne, President of the WTO General Council-cum-Chairman of the Working Party on the Accession of Vietnam to the WTO, marked the start of the meeting by summarising Vietnam's negotiation process and gave final approval of Vietnam's commitments with the consensus of all 149 WTO members. The council then approved Protocol WT/ACC/VNM/48 on Vietnam's WTO accession.
The meeting was followed by the signing of the protocol on Vietnam's WTO entry between the Vietnamese Trade Minister Truong Dinh Tuyen and the Director-General of the WTO, Pascal Lamy. Deputy Prime Minister-cum-Foreign Minister Pham Gia Khiem, who was also head of the Vietnamese Government's high-level delegation to the accession ceremony, witnessed the signing.
Addressing the ceremony, Director General Pascal stressed that Vietnam's accession to the WTO has helped improve the prestige of the largest trade body. It will not only benefit Vietnam but also all WTO members, he added.
Regional representatives of WTO members congratulated Vietnam and expressed their belief that their cooperation with Vietnam will be further developed.
Deputy Prime Minister and Minister of Foreign Affairs Pham Gia Khiem delivered a speech in which he emphasised that Vietnam's accession to the WTO is "an event of great significance, marking an important step for Vietnam's participation in the global trading system on an equal footing with all other WTO members."
The Deputy PM stated that Vietnam will strictly implement its commitments and actively contribute to the common tasks of the WTO.
The Deputy PM expressed his strong confidence that with serious preparation and efforts, together with the kind cooperation and keen support by other WTO members, " Vietnam is resolved to be a responsible and reliable member, effectively contribute to the common process."
WTO membership also helps Vietnam refine its reform process, creating opportunities for trade expansion, which is an important tool for economic growth," Trade Minister Truong Dinh Tuyen said in Geneva
"WTO accession poses major challenges to Vietnam's economy. However, we do believe that with co-operation extended by the members, Vietnam will make the most of opportunities," he added.(VNA, WTO)