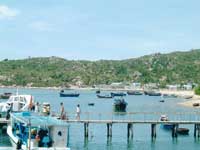 There are four bays in Vietnam considered to be the most beautiful, and are popular tourist destinations. Those bays are Ha Long in Quang Ninh Province, Cam Ranh, Van Phong in Khanh Hoa province and Vinh Hy in Ninh Thuan province.
Among these, Vinh Hy Bay is the most recently added to the list, and is not yet well known by travellers. Previously, the bay served for military purposes, so there were no travellers making visits. Lying on the axis of tourist destination Ninh Chu Beach, it is an attractive place for tourist development, though there are not many travellers exploring the small but beautiful bay.
Arriving at Ninh Thuan, you will feel the sunlight, wind and the very warm climate. Travelling by car or motorbike around the region, you will have a chance to contemplate the landscape and also to see the severe climate of a place that has a low quantity of rainfall every year. However, it still attracts travellers with its breathtaking landscape.
The bay lies some 40 kilometres and a one-hour bus ride from Ninh Chu Beach. Thanks to its many mountains and caves, the bay is very calm, with clear blue water, and in some places, you can see the bay's bed.
Several years ago, there were few boats for excursions, mainly fishing boats of local fishermen. Now there are five well-equipped boats, which are capable of taking tourists on a voyage onto the bay for swimming, fishing and browsing the coral reef. Each boat can seat 30 people at the price of VND 800,000 per boat, or VND 45,000 per person.
Taking the voyage during the summer season is rather interesting because of the calm sea. The boat will take you from Tay Sa to Tai Islet, Phu Islet, Bo Bo and Yen Cape before turning back to the shore.
If taking a voyage during the northeast monsoon, you can only pass by Tay Sa and Tai Islet, and during the southwest monsoon, you can visit Tay Sa and Bo Bo only.
The best place to catch a glimpse at the coral reef is at Tay Sa and Tai Islet. For swimming, there no place better than Phu Beach, where the boat cannot get close to the shore due to its shallow shelf. There, you can have a swim and relax at Ba Dien Beach with white smooth sand.
Seeing the landscape with multi-shaped mountains and enjoying the sea winds will make the trip worthwhile. If you stretch your rod to the boat's side, fish will give you great joy by swimming to catching bait. The caught fish can be grilled on the boat for you. (SGT)