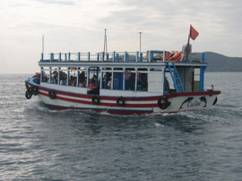 Club's activities to promote MICE.
The Vietnam Meetings, Incentives, Conferences and Events (MICE) club, founded in 2002 by the Vietnam Airlines, travel firms and hotels, is viewed as an important step to promote Vietnam as an attractive MICE destination.
Reasons of the club's birth
In the early years of 2000, facing negative impacts of terrorism, diseases and conflicts on international aviation market in particular and global tourism in general, Vietnam Airlines managed to find a way to maintain attraction of Vietnamese destination and restore the number of tourists from key markets such as Australia, Europe, Japan and the Republic of Korea.
Recognising great potential and prospect to develop MICE (Meetings, Incentives, Conferences and Events) tourism, Vietnam Airlines co-ordinated with travel companies and hotels of Vietnam to found the Vietnam MICE Club in 2002.
The number of international-standard hotels and resorts is rising quickly. Ho Chi Minh City has 12 five-star hotels and Hanoi has eight five-star hotels. A large number of five-star seaside resorts have been built in central coastal provinces and cities such as Da Nang, Quang Nam and Binh Thuan.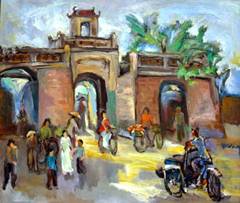 The club organising its MICE event.
Particularly, the construction of big event-organising centres has been completed, including newly-built modern national convention centre in Hanoi, where the 14th APEC Economic Leaders' Meeting was held, that can seat nearly 4,000 participants at the same time; an international convention centre in Ho Chi Minh City, big exhibition and fair centres in Hanoi and Ho Chi Minh City. It means that, in terms of infrastructure, Vietnam can meet the needs of organising big international events with hundreds or thousands of participants.
Vietnam has many UNESCO-recognised cultural and natural heritage sites and various kinds of tours (sea, culture, eco-tourism), which are advantages to attract foreign tourists to Vietnam to attend international events in combination with joining tours. Diverse outdoor activities in Vietnam will not cause bore to tourists who have attended many events at luxury hotels and resorts in other countries.
Historical, cultural and food characteristics of Vietnam are also advantages to impress MICE tourists.
A right way to go
Members of the Vietnam MICE Club said they focus on developing MICE because MICE tourists spend much more money than leisure tourists. They often choose business class in flights, stay at five-star hotels and resorts, combine their attendance of events with joining tours, have high shopping demands, buy high-quality products and use beauty-care services. Revenues from MICE are from three to eight times higher than from leisure tourists.
The Vietnam MICE Club was established at the end of 2002 with founding members: the Vietnam Airlines, Hanoitourist and five-star hotels of Hanoi Daewoo, Melia, Sofitel Metropole, Sofitel Plaza Hanoi and Hilton Hanoi. The founding of the club is aimed at raising money to promote the image of Vietnam as an attractive destination of MICE in the Asia-Pacific region.
In 2003, the club admitted new members in southern Vietnam, including Saigontourist and five-star hotels of New World, Renaissance, Rex and Carravelle. So far, the number of the club has increased to 24.
MICE promoted with typical cultural items of Vietnam.
Before the club came into being, the Vietnamese destination was almost not mentioned in professional MICE newspapers and magazines. After a year, in early 2004, the club contributed to putting Vietnam in the list of emerging destinations in the Asia-Pacific region. In 2005, Vietnam was voted as one of the ten MICE destinations in the region by CEI magazine (the magazine for key decision-makers and corporate buyers of conferences, exhibitions and incentives within Asia Pacific.)
Over the past time, the number of MICE tourists to Vietnam has risen steadily, more than 20% increase in 2006 against last year's, said the club's leaders.
The club is planning to spend around US $100,000 next year to promote MICE tourism in Vietnam, 20% higher than this year's spending. The money will be used for promoting presentations of Vietnam in Singapore, China's Hong Kong and England and encouraging the club's members to attend trade shows in Australia, China, Thailand and Spain. The club will also co-ordinate with the MPI magazine in the United States to organise a trip for MICE-organising firms in the US to Vietnam in 2007. - Nhandan.com.vn