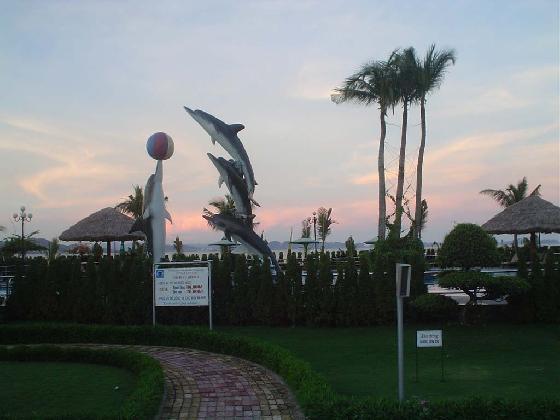 The Republic of Korea's (ROK) Topvina Corporation has reached an agreement with Vietnamese Au Lac Company, which is now running Tuan Chau Tourism Complex, on leasing the complex for business purposes.
The two sides declined to reveal the details of the agreement. However, the Korean side said that it would lease the complex for 40 years, and the two sides would re-negotiate about leasing prices and other terms of the contract every 10 years.
After taking over the complex in November 2006, the Korean investor will spend $20mil over three years to upgrade the existing resort, build a sports complex at sea, upgrade the existing entertainment areas, including the stage, house for crocodile performances, and build a high-grade seafood restaurant. The investor is also planning to focus on improving the quality of the art performances.
The Korean partner is also negotiating with Au Lac Company on the construction of a five-star hotel, which has been halted. If the two sides can find a common voice, the Korean investor will inject another $30mil to build the five-star hotel.
According to Lee Cheon Suk, Director General of Topvina Corporation, Tuan Chau is located in an advantageous position and it has the potential to become a high-grade tourism complex. However, the facilities and services here now are still not special and attractive enough. The Korean investor expects to turn Tuan Chau into a complex of tourism, entertainment, and a famous cultural address.
The Korean partner is now beginning its work on upgrading facilities at the Tuan Chau complex. The complex will welcome visitors with a new face next summer. It aims to attract international travellers from Japan, the RoK and other Southeast Asian countries.
Topvina Corporation is 100% RoK owned. Its parent company is Topvina Corporation Korea co, which specialises in tourism project development, construction, trade and fine arts.
(VietnamNet and Vneconomy)