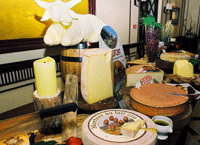 A corner view of Gio Noi Restaurant.
In Vietnam, Com, or steamed rice, is an essential part of the daily meal, rather like bread in western countries. Between being harvested in the field and ending up steamed on the table, rice can be prepared in a variety of ways, most often in an electric pot, as families living in the city often do, or in an aluminum pot put on coals.
However, there is another way that is less used now by families but is very traditional, known as Com Tho, or clay-pot steamed rice.
Com Tho is a rural country dish, often served with traditional Vietnamese dishes such as boiled vegetables dipped in fish sauce, vegetable soups, pork prepared with pepper, or fish cooked with brine with certain vegetables and pepper, prepared in a clay pot.
Unlike ordinary rice cooking, Com Tho preparation is elaborate, with specific portions of water and rice. If not correctly measured, the result could be a mess!
To prepare Com Tho, one puts a small measured amount of good quality, washed rice into a small clay pot and adds water. This procedure requires experienced cooks. If too much water is fed into the pot, the steamed rice will turn viscous and soft, and be flavourless. If too little water is used the steamed rice will be dry and undercooked, and of course that is not pleasant for diners either! These pots are put into a bigger pot and steamed for around 45 minutes. With a proper cooking, clay-pot steamed rice will produce an aroma and a soft grain of rice. Clay-pot steamed rice should never have a burnt smell.
Each pot is put on the dining table for diners to serve themselves. It is important that the steamed rice is kept warm during the meal.
Moreover, each pot should contain just enough rice, as too much could make diners feel tired of eating, and too little could leave them feeling unsatisfied. It is a feeling of 'enough' that is desired. Gourmets who are not full after a pot may order more until they are sated.
There are only a few restaurants serving clay-pot steamed rice in the city. To sample this fare, one can visit Gio Noi Restaurant, located on the ninth floor of Que Huon,g or Liberty Hotel, in the so-called 'backpacker westerners quarter' of Pham Ngu Lao street in downtown HCMC. Apart from the daily set menu of dishes served with clay-pot steamed rice, the restaurant sets up a vegetable buffet with a variety vegetables from which dinners can choose for themselves. There is also a salad stand with fruits and drinks. (SGT)