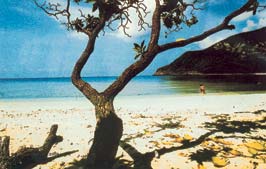 Hon Khoai is one of the well-known landscapes of the southernmost province of Ca Mau, about 15kilometres from the mainland. Hon Khoai is a group of islets and the biggest island is called Hon Khoai.
Hon Khoai is a rock island with hills and forests including various kinds of precious wood such as Star wood. The wild natural landscapes attract tourists a great deal.
Formerly, Hon Khoa was called Giang Huong, Independence Island and Poulo Obi in the French domination. However, the locals get used to calling it Hon Khoai because it looks like the shape of a giant potato.
A path to the top of the island zigzagd round the hillside and is shadowed by high and big trees. Jackfruit and mango trees are seen lush and many of them have become century-old trees.
Many wild flowers blossom in rock cavities. Tourists can hear sounds of running water and birds, it is really a paradise.
On the Hon Khoai coast, there are numerous algae which can be cooked into delicious dishes. There are also many species of birds on the island, including wild geese and swallows.
On the Hon Khoai Island stands an important lighthouse in the Eastern Sea and Thailand Bay. Having invaded Vietnam, French colonialists built a system of lighthouses from Can Gio, Con Dao, Phu Quoc to Hon Khoai to lead ships.
The lighthouse on the Hon Khoai Island is 318 metres in height. It was built in 1920 and its architecture remains intact. The lighthouse tower on the Hon Khoai Island was one of the earliest construction sites on the Vietnamese territorial waters.
Hon Khoai is not only a well-known landscape of Ca Mau province but also a revolutionary site in the south-western region of the south. In 1940, under the leadership of the Communist Party, the locals and soldiers re-took the island from French invaders.
With cool climate and beautiful scenery, Hon Khoai is suitable for ecological and discovery tourism. In 1994, the Ministry of Culture and Information recognised Hon Khoai as a national landscape _Nhan Dan