Thai Airways International in Viet Nam on Friday opened its new Ho Chi Minh City Office and announced an automatic tool to negotiate fares designed by Amadeus, a global reservation system.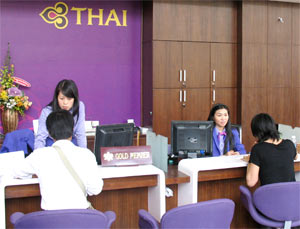 Thai Airways staff members serve customers at the new ticketing section in Ho Chi Minh City (Photo: Tuong Thuy)
The airline, which started flying to Viet Nam in 1989, locates the new office including the ticketing section on the ground floor of the Saigon Tower building on Le Duan Street in District 1. The 500 square meters office replaced the old office, about 200 square meters on Nguyen Du Street nearby.
"Together with opening the new office, we have upgraded our reservation and information systems. This is also another step toward gearing up for strong aviation growths as Viet Nam has officially become a World Trade Organization member," said Mr. Nond Kalinta, Thai Airways general manager in Viet Nam.
The carrier is currently operating 30 flights a week from Viet Nam and will add one more weekly service in each of the following years, he said.
Thai Airways and Amadeus Vietnam are upbeat about benefits provided for agents by the fare negotiating tool called Nego Fare they announced on Friday.
Nond Kalinta (L) of Thai Airways and Nguyen Hai toast to celebrate their partnership and the carrier's new office (Photo: Tuong Thuy)
Amadeus Vietnam chairman Nguyen Hai said, "You all know that setting airfares is very complicated. The world's aviation has more than 100 million prices, each price associating with dozens of conditions. We see about 100,000 prices in Viet Nam now."
"With the Nego Fare program, what agents do is to fill in some places on website www.checkmytrip.com, and know Thai Airways' fares," Hai said.
"Thai Airways and Amadeus have updated almost 5,000 fare levels in the market and the airline has become the first in Viet Nam to automate all pricing jobs, including promotional fares," he added.
In Thailand, about 80% of flight tickets are printed by Amadeus, said Thai Airways' Viet Nam general manager Kalinta. "Amadeus, a world leading technology partner in the travel industry, is operating Thai Airways' reservation system.
Amadeus International says 150 airlines are using its services to manage seats on flights.